Participate In Our Photo Contest 2015 And Win A Free Premium Membership On AuPair.com
[four_fifth valign="top" animation="none"]
[space]
[/space]
Whether you have experienced your time as a Host Family already or you are still looking for your perfect Au Pair – we would like you to share your experience!
Participate in our photo contest and win our monthly prize!
[/four_fifth]
[one_fifth_last valign="top" animation="none"]
[box icon="gift" style="solid"]
Win A Free Premium-Membership!
[/box]
[/one_fifth_last]
[divider style="none"]
[/divider]
[one_fifth valign="top" animation="none"]
[/one_fifth]
[three_fifth valign="top" animation="none"]
[box icon="star" style="solid"]
Check out the winning picture of August 2015 here!
[/box]
[/three_fifth]
[one_fifth_last valign="top" animation="none"]
[/one_fifth_last]
[divider style="none"]
[/divider]
[one_fifth valign="top" animation="none"]
How?
[/one_fifth]
[four_fifth_last valign="top" animation="none"]
Send us your perfect Host Family picture! You have not taken any pictures yet? Then grab your camera and get started – this is your perfect chance!
[/four_fifth_last]
The AuPair.com Team will nominate a winner each month and reward him or her with a Free Premium Membership on AuPair.com!
Please include the indication of month and year in the subject line of your email!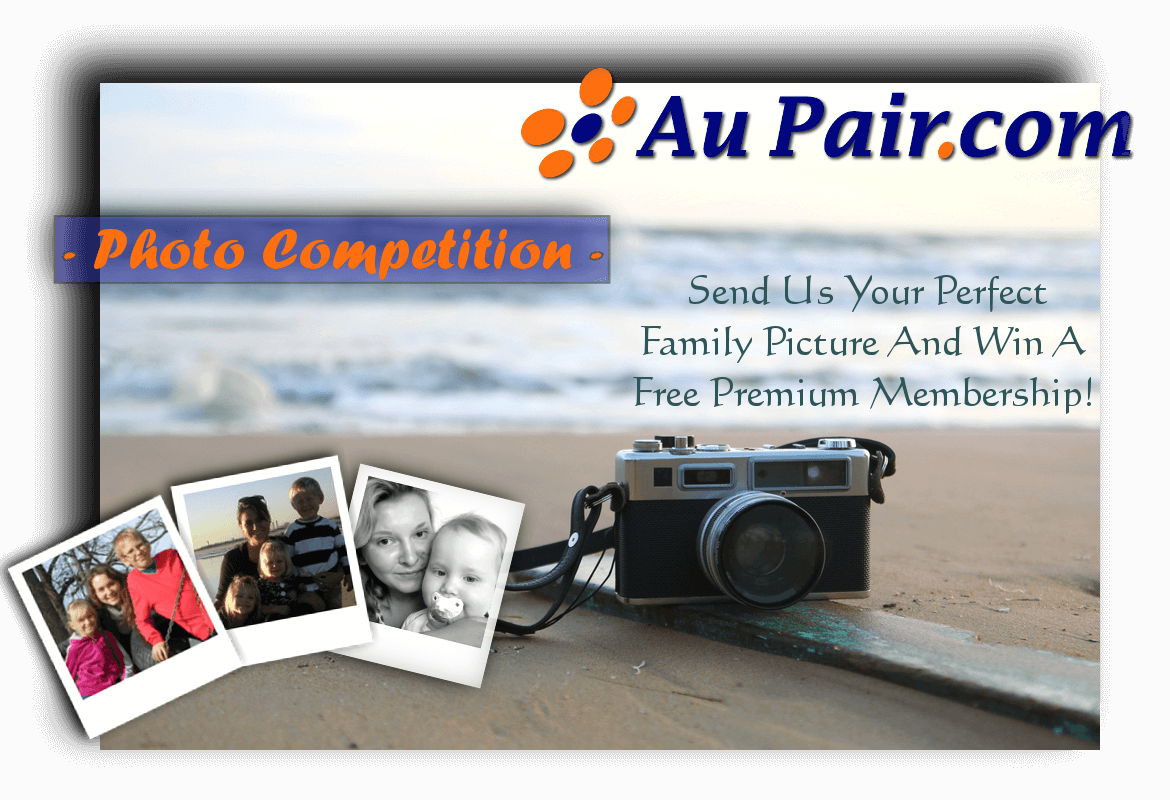 There is only one step you have to make! Send an email to photo@aupair.com containing the following aspects:
Subject line: Host Family Photo Competition, month and year (e.g. July 2015)
Your name or nickname (will be published)
Your home country and your (future) Au Pair's home country
Up to 3 pictures of good quality on the Au Pair topic (JPG format!)
3-5 sentences describing your expectations or experiences
Optional:
A description of your family (how many children, what age, boys/girls)
Your "Host Family status" (Currently hosting an Au Pair/ planning to host an Au Pair in the future/ having participated in the Au Pair Program already)
The perfect picture
We are looking for pictures that capture the whole idea of hosting an Au Pair!
How do you think an Au Pair imagines the perfect Host Family to be?
What are the main aspects of child care?
How did you experience hosting a guest from another culture?
These questions may help you to think of a possible shoot that is able to express the underlying concept of the Au Pair Program! We are excited to receive your photos!
Eligibility requirements:
Make sure that you hold the rights for all the photos you send to us. All the people visible in your pictures have to be asked for permission. By sending us your pictures, you agree that AuPair.com will be allowed to publish them and use them for its own purposes.
You are only allowed to participate once in a month.
[toggle state="off" style="simple"]
Eligibility requirements:
The photo contest is held by AuPair.com/ MultiKultur e.K.
Each participant has the possibility to submit up to 3 photos to photo@AuPair.com .
The photographs have to be submitted in JPG format. There are no size restrictions, but the pictures should be large enough in order for the jury to judge them. The ideal picture size would be 1200 pixel on the long side.
The indication of name and email address is obligatory. The pictures handed in will be judged by an independent jury after submission and subsequently be admitted to the competition.
The participant confirms that he or she holds all rights in respect od the photo submitted, that he or she has unlimited exploitation rights in respect of all parts, that the photo is free from any third party rights and that no personal rights are infringed in the event of persons being represented.
If one or more persons are recognizable in the photo, the persons in question must agree to the photo being published.
The participants agree to the storage of their data and the publication oft he photos. The pictures will not be passed on to third parties. This excludes the transmission to the press in order to publish and report on the photo competition.
The photos participating may be shown and used by AuPair.com/ MultiKultur e.K. giving the name of the photographer after the photo competition.
There is no entitlement to publication.
The participant explicitly agrees with these eligibility requirements.
Any recourse on courts of law is excluded.
[/toggle]
This post is also available in: German