You would like to become a Host Family in your host country but you are not sure if that is the best solution for your family? You have been hearing both great and bad stories about hosting an Au Pair and are still a bit sceptical about the whole program?
Then we are glad you have landed here so that we can help and provide you with some advice to decide whether or not an Au Pair could be the perfect match for your Family!
Is an Au Pair the

perfect solution for my family?
All parents know how it is like working and parenting at the same time without having enough time to give your children all the attention you would like them to have from you. However, this is what being a parent is like and you should not feel bad if you need some extra help sometimes. Actually, it is really good for children to learn how to get along with different people and having all their parents' attention all the time will not let them develope social skills that will allow them to adapt to different situations.
Also, do not forget you will need time for yourself, which seems to be something parents forget once they start thinking about themselves as a parent. Having time for yourself is really hard when having children and it is not always that easy to make sure they are in good care and you can take all the time you need.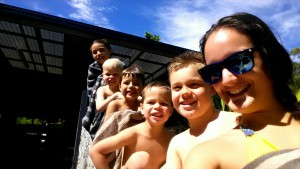 But what if you now have the chance to change this? What if you could count on someone who will not only give you a hand but also become a part of your Family so that your children will feel safe and confident? What if you could have time for yourself again?
If you identify yourself with what previously said and are an open and welcoming family, the Au Pair program is right for you! Au Pairs are young people willing to visit a foreign country in order to improve a language or get to know a new culture. In exchange for full board, accomodation and mothly / weekly pocket money, the Au Pair will take care of the Host Family's children for about 20-45 hours a week depending on both the host country's Au Pair program and the Host Family. This way, you will be able to have a trustful person living with you and taking care of your children in a very economic way.
The program's main idea is not to save money on childcare (which you will definitely do) but to give the Au Pair and the Host Family the chance to discover a new culture and experience an exchange program where both parties get to help each other.
Do you like how it sounds? More and more host parents are looking after an Au Pair everday so make sure you don't miss the chance. In order to participate in this international program, check the general requirements you need fulfill to become a Host Family and read all the information about the Au Pair program in your residence country.
Register now with AuPair.com and find a suitable Au Pair for your family. Don't forget to create a nice profile and add all the important information about your Family and the future Au Pair stay (introduction letter, details on the job, expectations...). The Au Pair contract will be an agreement between both the Au Pair and the host parents, so in case it doesn't work out or the Au Pair wants to leave early, there is always a 2 weeks notice period so that you have enough time for a plan B!
Make sure you arrange a video call with those potential candidates so that you get to know each other better!
This post is also available in: German