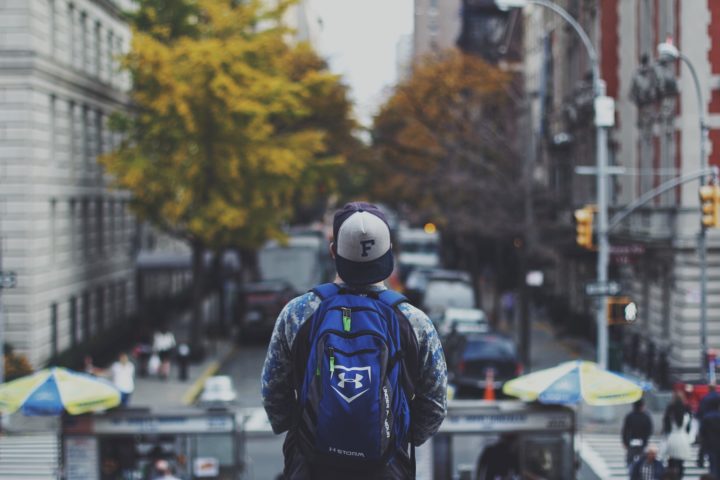 (Last Updated On: )
by Mona Briese
We talked to Timo, a male au pair and he explained why it is so hard to become an au pair as a boy and where he found support.
Timo, is a nice 19 year old guy, full of energy and the will to explore the world. After he finished school he decided to see the world and get some more experience in child care than he already had. For many years he had been a caregiver at camps for kids and wanted to go abroad, so to him the au pair program seemed like the right decision.
"Nobody was excited about my idea to go abroad for a year, but some of my friends, who have been in another country for some time before motivated me and told me not to miss that chance!"
Getting prepared
Timo found a lot of information on the au pair program. When he read that a participation at the program would be possible for him as a guy too, he decided that he wanted to go to the USA. During our interview it seems like Timo really prepared better for his year as an au pair than a female candidate. He had bought a book about the au pair program and searched for agencies on the internet. Two agencies made a good impression on him , so he ordered some brochures while he kept looking for more agencies. Finally he decided with which agency he wanted to go to America and started the application process.
Just as any other au pair Timo had to talk to his family and friends about his plan to become a male au pair. Parents worry a lot and sometimes even a little too much. He should finish a training or university first, so he could get a job immediately after he comes back to Germany. But when would be the best time to explore a foreign country than right after school? He explained his reasons why he wanted to take this step. Finally he convinced everyone that this was the right thing to do.
Starting the adventure
He started the application process, got his references together and once his documents were sent to the American agency he had to wait. For many families getting a male au pair is not even worth thinking about. Being a man who likes taking care of children - there come many prejudices. Parents are scared of having a man taking care of their children, although there is no reason not to trust this person in particular. For him it seemed to be easy to find a family, since he was contacted by families who asked specifically for a male au pair. Some of his friends had to talk to 10 to 12 families until a family chose them to become a part of their family, though.
Being a male au pair
For Timo it is not plausible at all why for some agencies a male au pair has to show proof of more hours of experience in child care than young women. "I don't really get it. What about the equal rights everyone is always talking about? Men can take equally good care of children as women. I do not see any problem with it. It was good for me that I could find an agency that treats male and female au pairs the same way."
For him there is nothing that makes a difference between him and female au pairs.
"Everybody can fail or feel desperate in some situations and everybody deals with it in their own way. It doesn't depend on the gender but on the situation and the individual how someone handles a situation."
But he knows that because he is a man he has to handle some situations a different way: "Thanks to media reports, that surely have their eligibility, men have kind of a bad image when it comes to child care. This doesn't make the job easier at all. Children have their moments in which they want to be close to you, but you as a man can't just provide the kid with closeness just as women do without render oneself liable to prosecution. If parents have a wrong idea of men in child care even a kid sitting on someone's lap can be a tragedy. As a man you have to learn how to be objective and show some sensitiveness." The 19 year old does not think that gender can say anything about knowledge and competences. Although women had the maternal instinct, it doesn't have to lead to a good raising of a child. Enthusiasm and exitement are important for child care besides experience and knowledge, says Timo.
His arguments seem plausible. He knows what he is talking about. He seems like a great candidate for every family to take care of their children.
"Especially in times of modern families, men play an important role. If there are less and less male caregivers in schools and kindergarten, children are missing male attachment figures. This would be especially important though, since there are many families without a man in their household."
He keeps explaining that nowadays  it shouldn't matter anymore if a kid is from a patchwork family, lives with a single parent or even a same sex couple. What is important is that kids learn to trust men and women in a healthy way.
Living with a host family
For his host family Timo was the first male au pair. When his host mum told her kids that the next au pair would be a man they haven't been too sure about the new situation, but with each skype call the kids seemed to like the idea better. Today they include him in family actions, they go on hikes and are very active. The parents talk to him about everything that matters. They really have understood how important it is to communicate. After having two nannies and two au pairs they are in training and know how to treat a new family member.
Timo has to give his host kids a ride to school and picks them up. He brings them to other social activities, organizes playdates or trips. Most of the time he organizes the trips together with other au pairs so it won't get boring for him and his kids get to know other kids.
"Although I might change my opinion about the program a couple of times, because many things can happen during my stay, at the moment I'd say that I would do the program again anytime."
This post is also available in: German