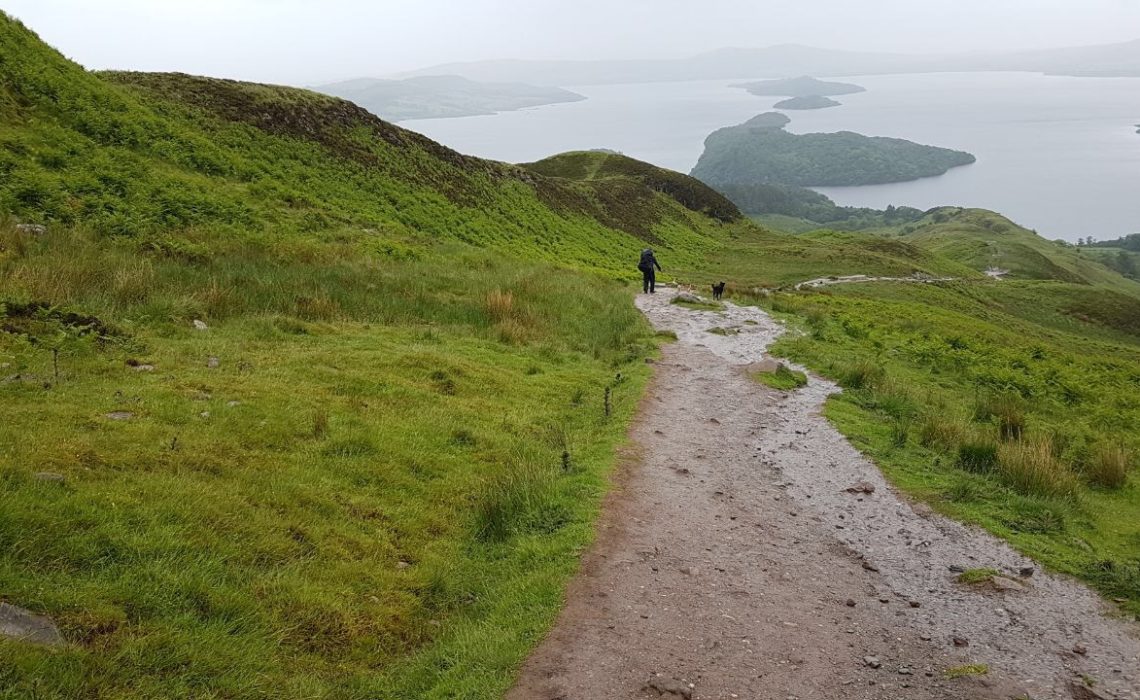 (Last Updated On: )
Sometimes we want to go out in nature. We want to breath, have some peace and quiet and concentrate on the important things. Combined with movement in fresh air we can find ourselves and can relax.
Breath easy
Hiking gives us relief. Surrounded by trees and fields we walk 10, 15, 20 miles a day. Alone or in a group, in circles or longer distances that bring us from one point to another. Long Distance Hiking is the perfect vacation for a lot of people that love the outdoors. You are being fit and see something new. In the evening you fall on the camping mat in your tent or the hostel bunk tired from walking all day. And although you are not taking too many things with you, a vacation like that costs some money.
But does it always have to be expensive? No! Even with a low budget it is possible to experience the adventure of Long Distance Hiking.
One of the most beautiful trails of Europe is the West Highland Way in Scotland. The trail of about 96 miles goes through green fairytale like woods, over hills, along the Loch Lomond and through rough moors, from Milngavie, a suburb of Glasgow to Fort William. It's possible to walk the way in 8 days, but you can also just take your time and walk shorter stages, so you walk the trail in 12 to 14 days. Very ambitious and sporty hikers walk it even in 5 days. But where is the relaxation then?
Expensive Equipment?
For a hike like that you need some equipment and very often that's what costs the hiker a lot. But it is not necessary to buy everything at once. It's possible to borrow some things and get own equipment from hike to hike. First it's important to get an overview of the things that are needed to go hiking.
This is a list of things, that you need on the West Highland Way
Backpack 50 l
Hiking Boots
Trekkingpants with zippers
Hiking socks
T-Shirts
Fleece
Rainjacket
Rainpants
Hat against the cold
Cap against the sun
Flip Flops
Guidebook
Hiking poles
Camping mat
Sleeping bag
Ohropax
Shower Gel & Shampoo
if you wanna clean yourself up a bit, use some natural soap
Toothpaste
Towel (microfiber or bolero)
Camping stove
Camping flatware
Tent (if you don't sleep at a hostel)
First-Aid-Kit
Travel pharmacy
Headlight
Toiletpaper
Wet wipes
Shovel
Tick tweezers
"Smidge" against the mean Midges
Adapter
Documents - Passport, Health Insurance Card, Debit-/Credit-Card
Of course you have to buy the right clothes for your trip by yourself. But since these are not worn only once, it's an investment that's doable.  You can get some pretty good clothes for a reasonable price. The most important investment will be for the hiking shoes. It's important that the shoes fit perfectly. Therefore many outdoor stores offer an extensive and friendly service, so you make the right choice. Don't just buy the shoes online. That will be a guarantee for blisters. If you have spent that money once, you will have those shoes for quite some time.
Insider tip: Lube a lot of Vaseline on your feet. Feels weird, but it will bring you through Scotland absolutely blisterless.
Other equipmenent just as tent, mat, sleeping bag, camping stove can be borrowed. If you don't have any hiking friends, you can also check Facebook groups, if there are people that can help you out. That's how you can save a few hundred euros.
Let's go!
And off you go on the West Highland Way. The stages of the trail can be departed in one or even two weeks. It's always important not to forget that a hiking trip is not a race and that everybody has their own speed.
To save the low budget it's a good idea to sleep in a tent on campsites. But also wild camping is allowed in Scotland Only on a few miles (about one stage) along the Loch Lomond it is not allowed to just put up the tent anywhere. But there are very cheap campsites (about 6 pound a night), with nice and clean bathrooms, so you can take a hot shower after a hard stage.
Do I have to starve?
On shops along the way there are always signs that this is your last chance to buy food for a very long time. But there are always little shops where you can buy fruit, vegetables, milk, bread, dried or canned food. A few snacks should be taken though. The bag of noodles and a glass of pesto do not have to go inside that backpack. Every gram counts and without all the food that is stored in your backpack you can have at least 1 kilo less on your back. On the second part of the way you should take some food with you though. There won't be stores in the middle of the moor.
If you are really cooking by yourself the whole time and you resign eating at pubs and restaurants you will be fine with 10 to 15 pounds per day. There is water from tabs at the front of many restaurants and hotels. But you can also get fresh spring water. It's often recommended to boil the water or at least a filter. But it's defintely not a must. Check that the spring is not close to a sheep or cow meadow. If it is the water should be boiled.
Culinary surprises will be brought to you in the form of honesty boxes or shelves along the way. Some of the residents have put some snacks and drinks in those. Scots are great! They trust in the honesty of hikers and have a box in which you can put the money, like 1 pound for a coke. Some of them even bake cookies and put them in boxes on the wayside. You definitely don't have to starve.
Small budget - off to Scotland!
With a defined budget you should really stick to the tent idea or look for a place to sleep in a bothy, a small hut along the way that has a stove and plank beds.
Tentpitches on campsites cost between 5 and 10 pounds per person and night
Hostels cost between 15 and 25 Pfund per night and person
Bed & Breakfasts are everywhere, they cost around 30 pounds or more though
Hotels are out of discussion for a low budget trip
Especially au pairs in the UK or in Europe should go on one of those hiking trips. You can explore cities during a weekend, but an adventurous trip through the Scottish Highlands needs time and after two weeks you would just prefer to stay there surrounded by nature for the rest of your life.
This post is also available in: German